Album Review: Beyoncé-Beyoncé
Artist: Beyoncé
Title: Beyoncé
Lead Single: Drunk In Love, XO
Production:
Writing/Lyrics:
Hooks:
Originality:
Content:
Vocals/Delivery:
After midnight on Friday December 13th, the internet was sent into a frenzy over the news of a brand new Beyoncé album released with no promotion or lead single, following up on the #NewRules slogan Jay Z introduced earlier in the year. The self-titled album serves as Beyoncé's 5th solo effort in 10 years and her first record since the birth of baby Blue. As if 14 new Beyoncé songs weren't enough, the album, now available for download on iTunes, came with 17 brand new videos that make up the visual album.

What is most unique about her latest effort is that we get to witness an edgier Beyoncé as she delivers an album that is more honest, has a heavier hip-hop influence and believe it or not, is sexier than her previous works. Features on the album include Drake, Frank Ocean, Chimamanda Ngozi Adiche, and of course Jay Z, who offers a 16 bar verse on Drunk in Love (a catchy song describing an intoxicated sexual encounter that will certainly find its way to radio.)


The album opens up with Pretty Hurts as Beyoncé sings about the pressures and pain of being an attractive woman, whether a celebrity or "average Joanne." Although this is the introductory song, it doesn't necessarily set the tone for the rest of the album and what it has to offer. Songs that follow, such as Blow and Rocket are raunchy yet flavorful and she also has several songs that pay homage to her hometown of Houston, Texas. The video to No Angel was shot in Houston and included cameos from Bun B, Paul Wall, Slim Thug and numerous other rappers from the city. It seems like half of the videos were given a classic look with black and white being a reoccurring theme, and the other half were colorful and vibrant.
With 17 videos, one for every track and three additional interlude videos, each one had to stand out from the previous one. Pretty Hurts follows a young woman who is scarred by members of her family and society due to her beliefs that they think, or expect her to be "perfect." In the video you see Beyoncé uncomfortably competing in a beauty pageant representing the Third Ward of Texas. Trophies and ribbons, which very well may be actual awards she has won from competing in pageants as a child, appear in the video several times. The video and song alike do a good job at making the audience feel empathetic for Beyoncé and the childhood that was stolen from her, until you remember how much she's worth and all her accomplishments.
The video that follows is less story, and more interpretive. With both black and white backgrounds, you see scenes of Beyoncé in black body paint as well as scenes where she is trapped in a full body spandex suit that the male species would appreciate. The Haunted video is easily one of the more memorable ones from the album and the first that has choreographed dance moves – moves that require her to crawl from one side of a bed to another. Other factors that make this video stand out include the Cruella DeVille like coat she had on, unexpected random happenings and sexual actions from her and the extras.
Dressed like it's the late 1970's/early 80's and resembling a black Barbie Doll, Beyoncé rolls around a skating rink in the video for the Timbaland produced Blow. In a neon two piece and pig tails Queen B dances around on skates, making it one of the sexier and pleasurable videos to just sit back and enjoy. The French dance duo, Les Twins, and Solange Knowles appear in the video as well.
Before telling us how freaky she can get and showing us how sexy yet classy and elegant she can be in the Partition video, Beyoncé dresses up in high-end street fashion for the interlude to Yonce. Although Jay Z doesn't appear on the track, he sits in on the video of Partition while she teases him and video projections cover her. The transition into the following track, Jealous, is carried so smoothly you'd think it was one extended video. The audience sees a destructive, lonely and confused Beyoncé in this video as she longs for the attention from her partner.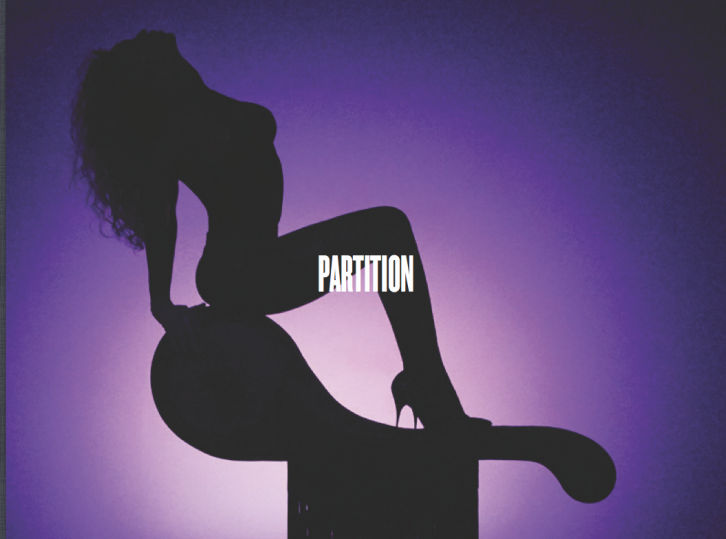 In a slow motion video that looks like it could be a commercial for a fragrance or lingerie line, without minimal performance shots Beyoncé delivers arguably the most provocative video of this project with Rocket. The next video is another song radio stations will soon have on their daily rotation, Mine featuring Drake. Choreography is more prevalent in this video in comparison to the previous ones, as the dancers include traditional African and African-American influenced moves and cover their faces with shirts that read "Mine" and "Yours." Some of the moves require the dancers to be attached in some way which can be interpreted as them coming together to form one being, the goal of relationships, or to show possession and that they're afraid of or don't want to let go.
The XO video displayed a day in the life of Beyoncé the superstar as she enjoyed a late summer day in the Brooklyn at the Coney Island Beach. This video was another enjoyable one because of the authenticity and simplicity of it; it shows the love her fans have for her and vice versa. Rather than playing off of the "bow down" line and flexing in all gold with a robe and crown on, B took another route with the Flawless video and had everyone dressed in All-American bad girl and bad boy fashion. With the wardrobe being what it is and the video being in black and white, you can't help but think of the 1950's America and young rebels on the loose.
The video for Superpowers features an army led by Beyoncé in a ghetto that appears to be a ghost town. At the conclusion of the video you see the army lined up in front of law enforcement ready to take them on and fight for what they believe in. Kelly Rowland, Michelle Williams, Pharrell and Luke James all appear in the video. In the song dedicated to Blue Ivy, Beyoncé and her first born are seen amongst the people of Rio, Brazil. For most of the video we only see the back of Blue and small amounts of times you get to see her facial features which are similar to her fathers.
The last music video of the visual album is a bonus song we first got introduced to in Beyoncé's Pepsi commercial. The song is titled Grown Woman and this video is another memorable one, probably more so for Beyoncé than any of her fans. Home videos of her rehearsing as a child and teenager altered to show her singing the lyrics of the song were fused together with new footage of her now as a grown woman, hence the title. Kelly Rowland also appears in this video, as a youngster and in present day; old home videos also show Destiny's Child practicing and performing in their early stages.
From the choreography to the wardrobe, locations and hairstyles every video offers another side of Mrs. Knowles-Carter. Grown Woman wasn't the only video that had old home videos in it; a few others did the same thing which helped show where she came from and where she is now today as a woman, a mother, wife, international superstar but even more as a human offering a great glimpse into the real Beyoncé.
The production as a whole was less pop influenced than even her last, relying on a lot of experimental hip-hop with most a lot of the songs being mid-tempo.  It was time for Beyoncé to ditch the innocent good girl image fans have seen since her Destiny's Child days, and bring something new to the table, which she executed flawlessly. Ending out the year with such a bang means there might be more in store for 2014, and I'm sure everyone will be tuned in to witness it.
-Review by Julian Wood
overall Ratings